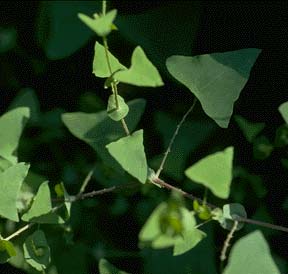 News flash: "....The dismantling of
Polygonum
sensu
lato
has
been gradually
gaining favor since the earlier papers of
Haraldson
(1978)
and Ronse
Decraene
&
Akeroyd
(1988). For example, it is adopted in
the Med
-Checklist, the Flora of Japan (2006), in Families and Genera
of Vascular
Plants (
Brandbyge
in
Kubitzki
, 1993), and will be adopted in
the upcoming
Flora of Australia (
fide
Wilson 1990). In GRIN we chose
to retain
Polygonum
in its original sense until the Flora of North
America treatment
appeared (in vol. 5. 2005), since all North American floras
had ignored
this split as well. Once
FNA
endorsed this view our GRIN
data were
converted to agree with them...."
[John H.

Wiersema

, Ph.D.Curator of GRIN Taxonomy (www.ars-grin.gov/cgi-bin/npgs/html/index.pl)United States Department of Agriculture/Agricultural Research

Service Systematic

Botany & Mycology

Laboratory Bldg

. 011A,

Beltsville

Agricultural Research Center (

BARC

-West)

Beltsville

, MD 20705-2350 U.S.A.Tel: 1-301-504-9181 Fax: 1-301-504-5810 Email:
jwiersema@ars-grin.gov
]; [picture of mile-a-minute weed courtesy of

Jil

M.

Swearingen

, U.S. National Park Service, Washington, DC]
Mile-a-minute weed had been changed to
Persicaria
perfoliata
previously recognized as a synonym for
Polygonum
perfoliatum
, which has been the accepted name for a number of years now. Just when you thought you knew 'em, they get an also know as.